Live coverage of the countdown and launch of a SpaceX Falcon 9 rocket from Space Launch Complex 40 at Cape Canaveral Space Force Station, Florida. The Falcon 9 rocket will launch the SES 18 and SES 19 geostationary communications satellites. Follow us on Twitter.
SFN Live
A SpaceX Falcon 9 rocket is poised for launch from Cape Canaveral just after sunset Friday on mission to haul two SES television broadcasting satellites into orbit, continuing a multibillion-dollar program to clear C-band spectrum for terrestrial broadband.
The TV satellites are stacked one on top of the other inside the payload fairing of SpaceX's Falcon 9 rocket for liftoff during a 38-minute launch window opening at 7:38 p.m. EDT (2338 GMT). There is an 80% chance of good weather for launch from Cape Canaveral Friday night. The only weather concern is a slight chance of gusty winds exceeding the Falcon 9's safety criteria.
The mission is set to liftoff a few minutes after sunset, and assuming clear skies, local residents and tourists should have a spectacular view of the Falcon 9 as it climbs into sunlight, trailing an expanding plume of exhaust from its kerosene-fueled engines.
The launch from Cape Canaveral with the SES 18 and SES 19 communications satellites is scheduled a few hours after the successful launch of another SpaceX Falcon 9 rocket from Vandenberg Space Force Base in California.
The Falcon 9 flight from California launched with 52 of SpaceX's own Starlink internet satellites at 12:26:40 p.m. PDT (3:26:40 p.m. EDT; 1926:40 GMT), 4 hours and 12 minutes before the opening of the launch window for the Falcon 9 launch from Cape Canaveral. See our Mission Status Center for our play-by-play updates of the Falcon 9 flight from Vandenberg.
If the launch from Florida takes off as scheduled, it would set a new record for the shortest turnaround time between SpaceX Falcon 9 launches. The current record is 7 hours and 10 minutes, was set last October with launches from Florida and California. The back-to-back missions will be SpaceX's 18th and 19th flights of the year, and 211th and 212th flights overall by a Falcon 9 rocket.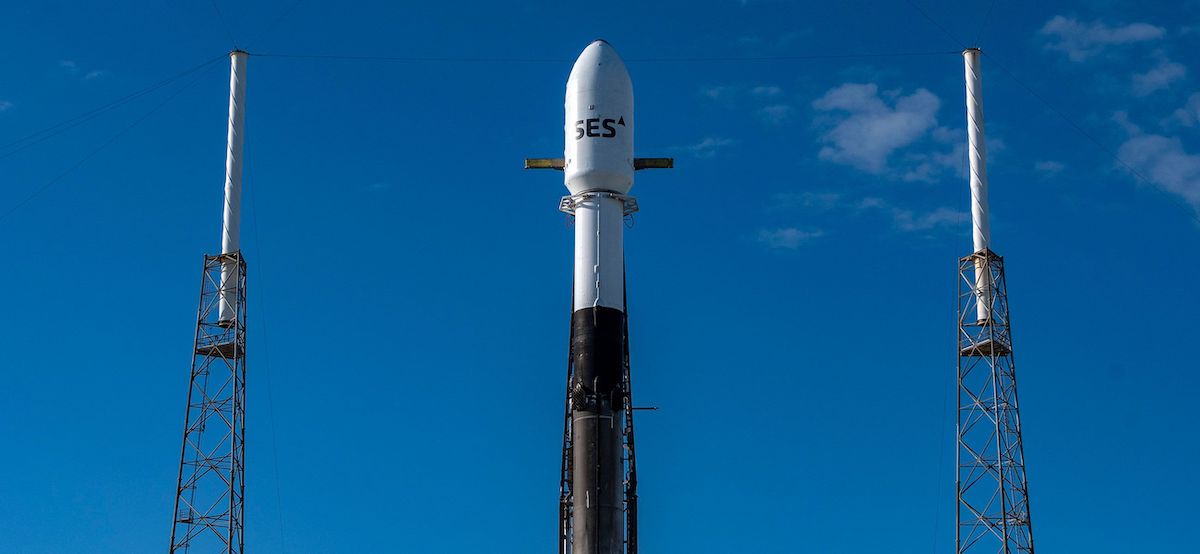 The Northrop Grumman-built SES 18 and 19 communications awaiting liftoff Friday night from Cape Canaveral are set to start 15-year missions relaying C-band video and television programming for media networks and cable providers across North America.
SpaceX ground crews rolled the Falcon 9 rocket and its commercial satellite payload to pad 40 and raised it vertical in the launch mount at pad 40 for final checkouts early Friday. During Saturday's countdown, the 229-foot-tall (70-meter) launcher will be filled with a million pounds of kerosene and liquid oxygen propellants in the final 35 minutes of the countdown.
After teams verify technical and weather parameters are all "green" for launch, the nine Merlin 1D main engines on the first stage booster will flash to life with the help of an ignition fluid called triethylaluminum/triethylborane, or TEA-TEB. Once the engines ramp up to full throttle, hydraulic clamps will open to release the Falcon 9 for its climb into space.
The nine main engines will produce 1.7 million pounds of thrust for about two-and-a-half minutes, propelling the Falcon 9 and and the SES 18 and 19 communications satellites into the upper atmosphere. Then the booster stage — tail number B1069 in SpaceX's fleet — will shut down and separate from the Falcon 9's upper stage.
The booster will extend titanium grid fins and pulse cold gas thrusters to orient itself for a tail-first entry back into the atmosphere, before reigniting its engines for a braking burn and a final landing burn, targeting a vertical descent to the drone ship "Just Read the Instructions" parked about 420 miles (about 670 kilometers) east of Cape Canaveral. The mission Friday night will be the sixth flight to space for the reusable first stage B1069.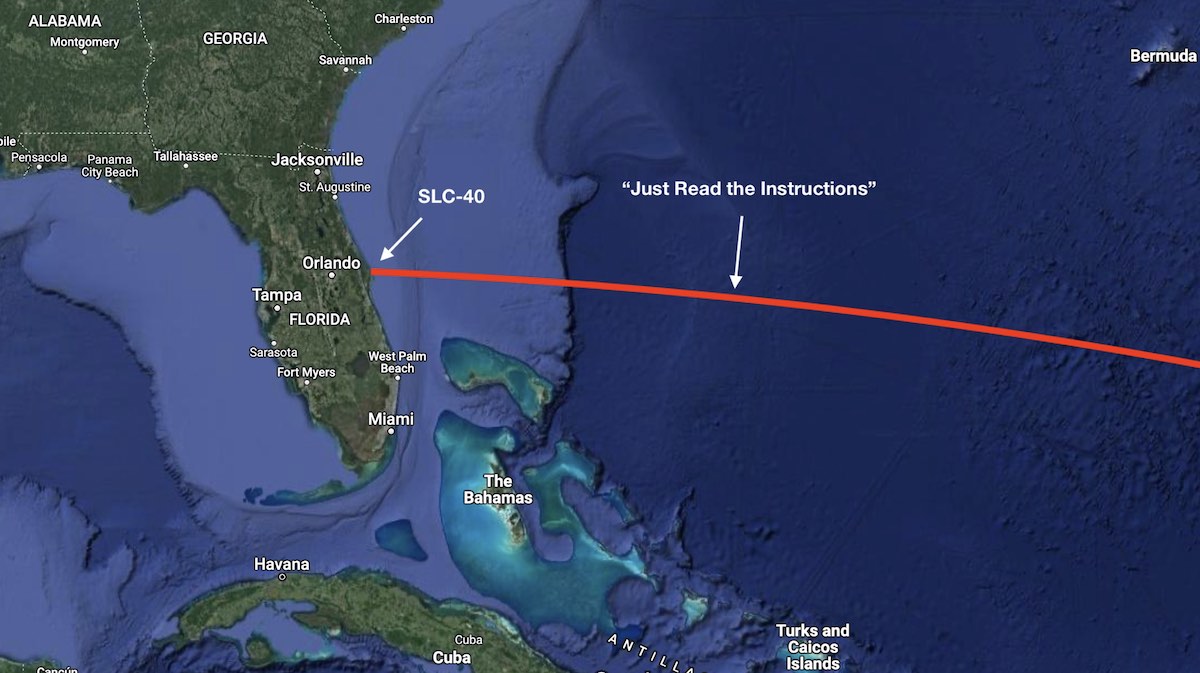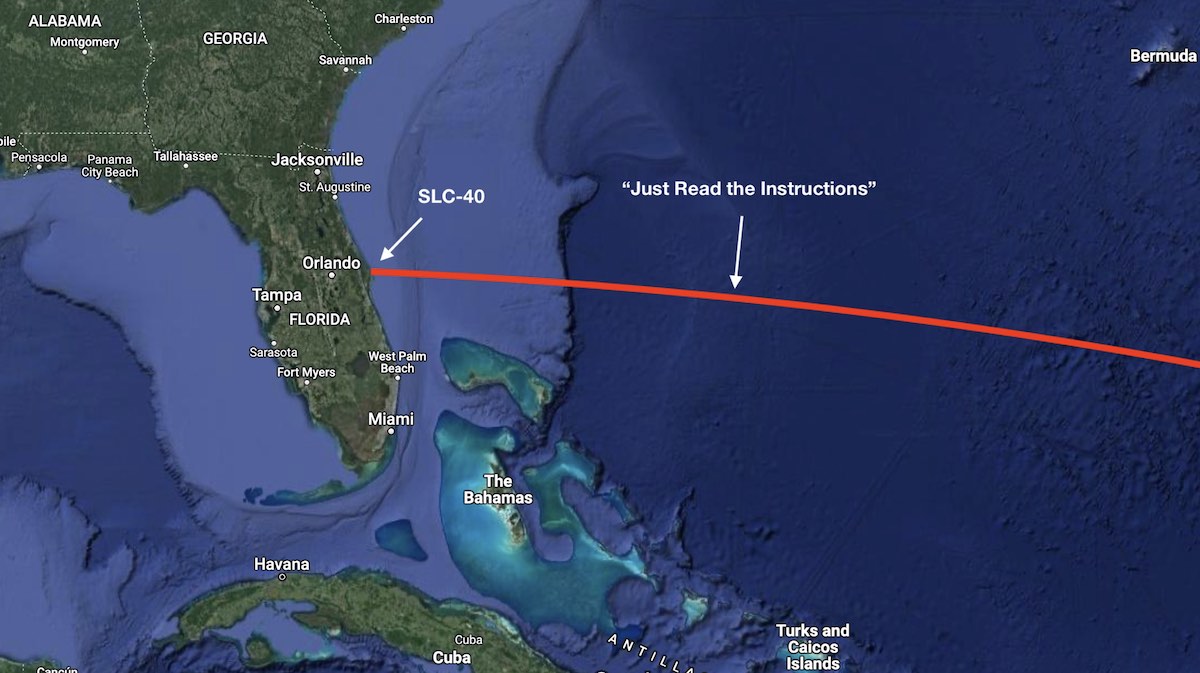 The Falcon 9 will aim to release the SES 18 and 19 satellites into an elliptical "sub-synchronous" transfer orbit with an apogee, or high point, short of the satellites' final 22,000-mile-high operating altitude in geostationary orbit. The lower-than-usual deployment orbit for a geostationary mission will allow the Falcon 9 rocket to lift both satellites on one mission, and give the Falcon 9's reusable first stage booster enough reserve propellant to return to landing on the drone ship in the Atlantic Ocean.
In launch configuration, the two nearly identical satellites weigh 15,995 pounds (7,255 kilograms), according to a Northrop Grumman spokesperson. The lower satellite in the dual-payload stack, SES 19, weighs about 100 pounds more than the upper satellite because it carries structural components to directly connect the spacecraft together during the ride into orbit.
The Falcon 9 rocket's upper stage will ignite its Merlin Vacuum engine two times, first to place the SES satellites into a low-altitude parking orbit, then to raise the apogee of the orbit to a distance thousands of miles above Earth.
SES 18 will separate from the launcher about 32 minutes after liftoff by firing a pyrotechnical device to release a clamp band connecting it with SES 19, which is riding in the lower position of the dual-satellite stack. SES 19 will separate from the Falcon 9's upper stage about five minutes later, 37 minutes into the mission.
SES 18 and 19 will unfurl their solar panels and complete a series of post-launch checkouts, then use a hydrazine-fueled main engine to reshape its orbit from the elliptical, or oval-shaped, transfer orbit the Falcon 9 will put them in after Friday's launch. The satellites will maneuver into circular geostationary orbits some 22,000 miles (nearly 36,000 kilometers) over the equator, where their speed will match the rate of Earth's rotation, keeping them over the same location on the planet and providing a fixed coverage zone for their C-band broadcast antennas.
SES 18 and 19 will be the fourth and fifth new C-band communications satellites to join SES's fleet in the last nine months. The flurry of new C-band satellite launches stem from a 2020 order for six new spacecraft, including a spare, as part of a Federal Communications Commission decision to clear 300 megahertz of C-band spectrum for the roll-out of 5G mobile connectivity networks.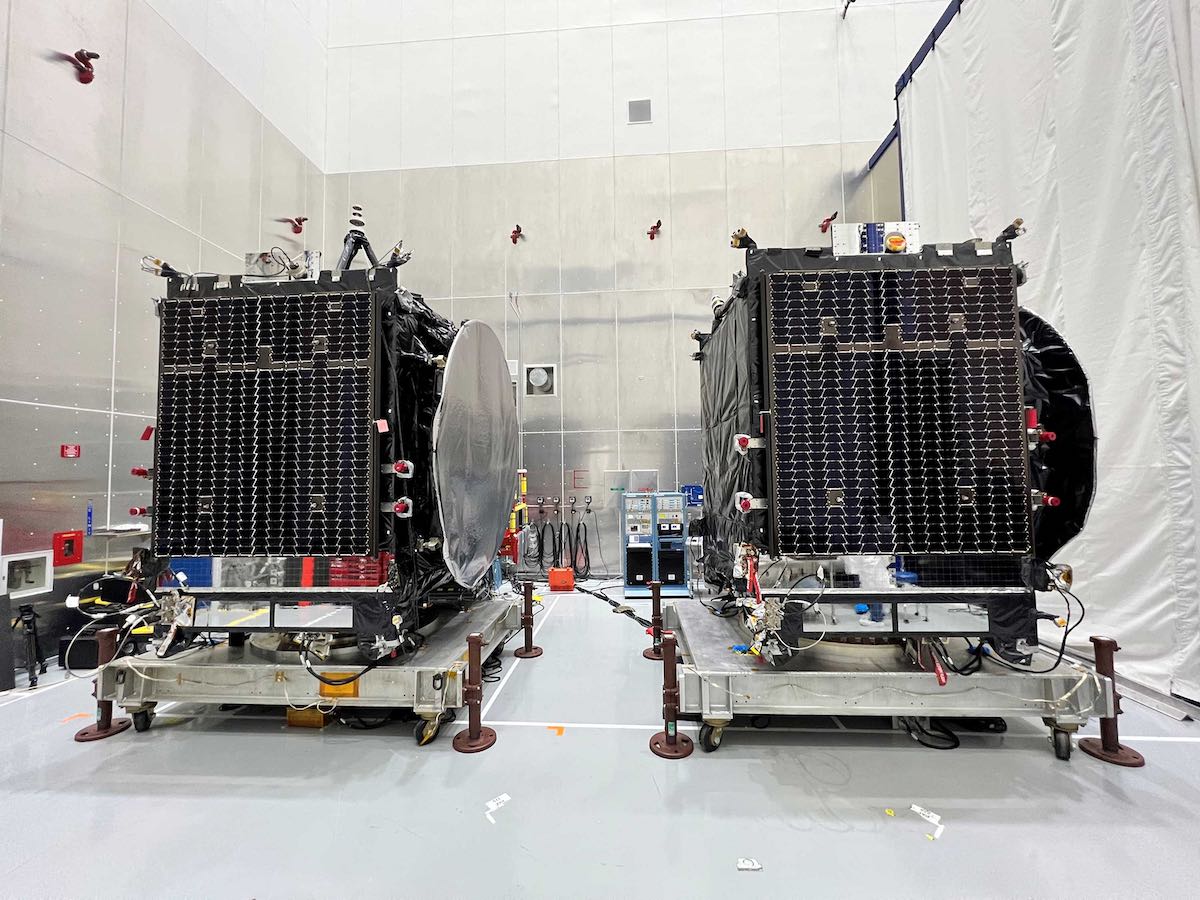 The new C-band satellites will operate in a narrower swath of spectrum, enabling the broadcast of digital TV services to nearly 120 million homes in the United States, while clearing the 300 megahertz of spectrum now assigned for use by 5G operators.
The FCC auctioned U.S. C-band spectrum — previously used for satellite-based video broadcast services to millions of customers — to 5G operators, which are paying satellite operators like SES through multibillion-dollar compensation agreements. Intelsat, another large television broadcast satellite operator, ordered seven new C-band satellites as part of the C-band clearing initiative.
SES launched the first new C-band satellite, SES 22, on a Falcon 9 rocket last June. Two more C-band satellites, SES 20 and 21, launched in tandem on a United Launch Alliance Atlas 5 rocket in October. SES ordered a spare satellite, SES 23, that the company does not plan to launch, pending a successful deployment of SES 18 and 19 on the next SpaceX mission, an SES spokesperson said.
The multi-satellite procurement by SES, along with launch services and reconfiguration of ground systems, represents a $1.6 billion investment by the company.
The SES 18 and 19 satellites, based on Northrop Grumman's GEOStar satellite design, should be ready to begin commercial service in June to provide TV, radio, and data relay services across the United States. SES 18 will head for a position at 103 degrees west longitude, where it will replace the C-band payload on the SES 3 satellite launched in 2011. SES 19 will enter service at 135 degrees west longitude, co-located with the SES 22 satellite launched last year.
ROCKET: Falcon 9 (B1069.6)
PAYLOAD: SES 18 and 19 communications satellites
LAUNCH SITE: SLC-40, Cape Canaveral Space Force Station, Florida
LAUNCH DATE: March 17, 2023
LAUNCH WINDOW: 7:38-8:16 p.m. EDT (2338-0016 GMT)
WEATHER FORECAST: 80% probability of acceptable weather
BOOSTER RECOVERY: "Just Read the Instructions" drone ship
LAUNCH AZIMUTH: East
TARGET ORBIT: Sub-synchronous transfer orbit
LAUNCH TIMELINE:
T+00:00: Liftoff
T+01:12: Maximum aerodynamic pressure (Max-Q)
T+02:32: First stage main engine cutoff (MECO)
T+02:36: Stage separation
T+02:44: Second stage engine ignition
T+03:21: Fairing jettison
T+06:36: First stage entry burn ignition (three engines)
T+07:00: First stage entry burn ends
T+08:17: Second stage engine cutoff (SECO 1)
T+08:24: First stage landing burn ignition (one engine)
T+08:45: First stage landing
T+26:17: Second stage engine restart
T+27:04: Second stage engine cutoff (SECO 2)
T+32:15: SES 18 separation
T+37:25: SES 19 separation
MISSION STATS:
212th launch of a Falcon 9 rocket since 2010
222nd launch of Falcon rocket family since 2006
6th launch of Falcon 9 booster B1069
181st Falcon 9 launch from Florida's Space Coast
117th Falcon 9 launch from pad 40
172nd launch overall from pad 40
152nd flight of a reused Falcon 9 booster
9th SpaceX launch for SES
18th Falcon 9 launch of 2023
19th launch by SpaceX in 2023
14th orbital launch attempt based out of Cape Canaveral in 2023