Relativity Space, a California-based startup that counts billionaire Mark Cuban as one of its early investors, will try to launch the first 3D-printed, methane-fueled rocket into orbit from Cape Canaveral Wednesday.
The two-stage rocket, called the Terran 1, will lift off from Launch Complex 16 at Cape Canaveral Space Force Station. The test flight has a three-hour launch window Wednesday opening at 1 p.m. EST (1800 GMT), and there's a 90% chance of favorable weather, according to the Space Force's 45th Weather Squadron.
The mission is a demonstration for Relativity's Terran 1, a 110-foot-tall (33.5-meter) launcher designed to haul more than a ton of cargo into low Earth orbit. The Terran 1 is aimed at the commercial launch market for small to mid-sized satellites, making Relativity one of several privately-developed smallsat launch companies coming online in the last few years.
"There are a number of firsts here potentially on this rocket," said Josh Brost, vice president of revenue operations at Relativity Space. "It has the chance of being the first liquid natural gas / liquid oxygen rocket to make it to orbit. It has, by far, the highest 3D-printed content of any rocket in history. We're sitting at about 85% by mass, where I don't think any other rocket has gone past maybe 4%."
Relativity Space has nicknamed the Terran 1's test flight as "Good Luck, Have Fun." It won't carry any customer satellites.
The Terran 1 rocket could become the first methane-fueled launcher to reach orbit if the eight-minute flight goes well Wednesday, beating two much larger rockets — ULA's Vulcan and SpaceX's Starship — scheduled to attempt their first full-scale test flights in the coming weeks or months.
Tim Ellis, co-founder and CEO of Relativity Space, said methane is the "propellant choice of the future, especially for reusable rockets."
Methane is a more efficient fuel than kerosene, which is used on SpaceX's Falcon 9 rocket, Russia's Soyuz launcher, and ULA's Atlas 5. It also burns cleaner and leaves less residue inside an engine than kerosene, easing refurbishment and reuse between missions.
Before the first Terran 1 has even left the launch pad, Relativity started development of a larger fully reusable rocket called the Terran R, a vehicle the company says will become a "point-to-point space freighter capable of missions between the Earth, moon and Mars."
But the first test flight of the smaller Terran 1 rocket is a major milestone for Relativity, a company founded in 2015 by Ellis and Jordan Noone, college classmates who worked short stints as engineers with Blue Origin and SpaceX. Ellis, 32, is CEO of Relativity, while the 30-year-old Noone stepped down as the company's chief technology officer in 2020.
"Hard to believe the day is nearly here to launch Terran 1, our first rocket!" Ellis tweeted Tuesday. "Seven years ago, I co-founded Relativity Space, which feels like a lifetime ago, but is an incredibly short time frame in the scheme of things in aerospace — especially starting as two people in a WeWork, truly from scratch, where we had to rally and scrap together every ounce of funding, team, facilities, and technology starting from absolutely nothing."
The company now boasts some 1,000 employees, a million-square-foot headquarters and factory in Long Beach, California, and $1.3 billion in venture capital and equity fundraising, including an early $500,000 investment from billionaire Mark Cuban. In 2021, the company reached a valuation of $4.2 billion before launching any rockets.
Now the Terran 1 is on the launch pad in Florida, ready for an inaugural test flight to demonstrate the rocket's 3D-printed tanks, structures, and engine components can withstand the rigors of launch.
"No new company has ever had their liquid rocket make it to space on their first attempt," Brost, also a former engineer and manager at SpaceX, told Spaceflight Now in a pre-launch interview. "So if everything goes incredibly well, and we achieve orbit on our first launch Wednesday, that would be a remarkable milestone for us, which we would be, of course, over the moon excited about. But that doesn't define success for us.
"There are many other things that could happen on launch that would still be considered very successful for us," Brost said.
"Of course, the rocket-loving engineer in me wants to see us be the first privately-funded AND first liquid-propellant rocket to ever reach orbit on the first try," Ellis tweeted. "That would be truly unprecedented, especially with all the other 'firsts' this launch represents on the global stage. But there are a lot of important moments before that which will have me jumping out of my seat."
The Terran 1 rocket can carry up to 2,755 pounds, or 1,250 kilograms, of cargo to a low-altitude orbit. That's significantly more than other commercial small satellite launchers, such as Rocket Lab's Electron vehicle. Relativity says it sells a dedicated launch on a Terran 1 rocket for $12 million.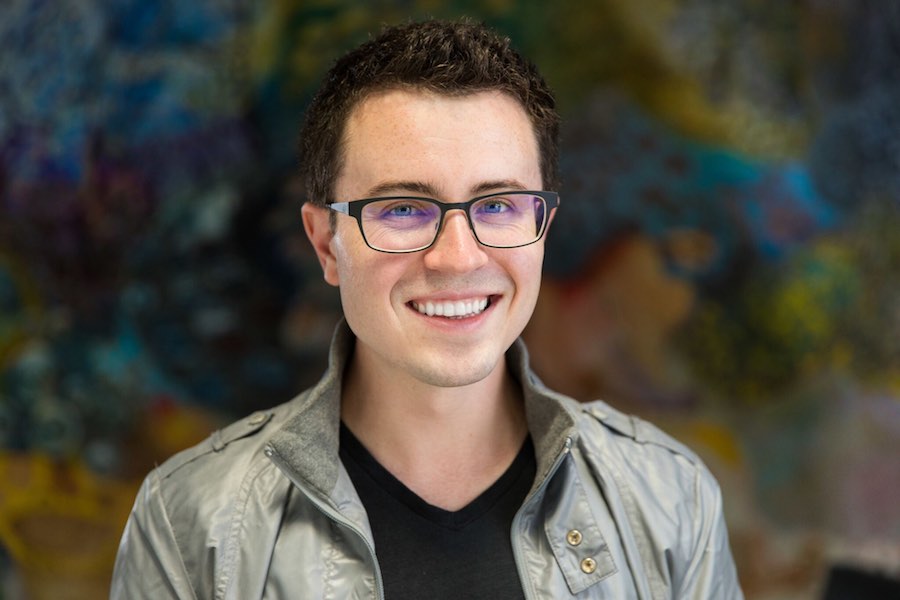 Relativity Space not only developed a new rocket and designed a new rocket engine from scratch, the company has introduced four generations of 3D printers, each capable of building more rocket components faster and at lower cost.
About 85% of the 20,458-pound (9,280-kilogram) structural mass of the Terran 1 rocket is manufactured with 3D printing technology, including its Aeon engines, fed by methane fuel and super-cold liquid oxygen. 3D printing allows Relativity to manufacture rockets with 100 times fewer parts than launch vehicles built using conventional methods, the company says.
Relativity produced the Terran 1 rocket's primary structure and propellant tanks on its 3D printers. The engine thrust chambers, injectors, and turbopumps, reaction control thrusters, and pressurization systems also rely on 3D printing tech. Other parts, such as avionics and flight computers, were manufactured using conventional methods, Brost said.
The nine Aeon 1 engines on the first stage of the Terran 1 rocket will generate about 207,000 pounds of thrust at full power.
A company spokesperson said Relativity has completed six ignitions and more than 185 seconds of hotfire time for all nine Aeon 1 engines on the first stage of the Terran 1 rocket, with no ignition failures, premature engine shutdowns, or engine swaps. The engines and the Terran 1's autogenous pressurization system, which uses self-generated gases to maintain pressure in the propellant tanks, have performed well during the ground tests, Relativity said.
Relativity said last month it would skip a full-duration test-firing of all nine Aeon 1 engines on the first stage of the Terran 1, opting instead to proceed into final launch preparations.
"We were very intentional about trying to get to the pad as fast as we could to maximize the rate of learning," Brost said.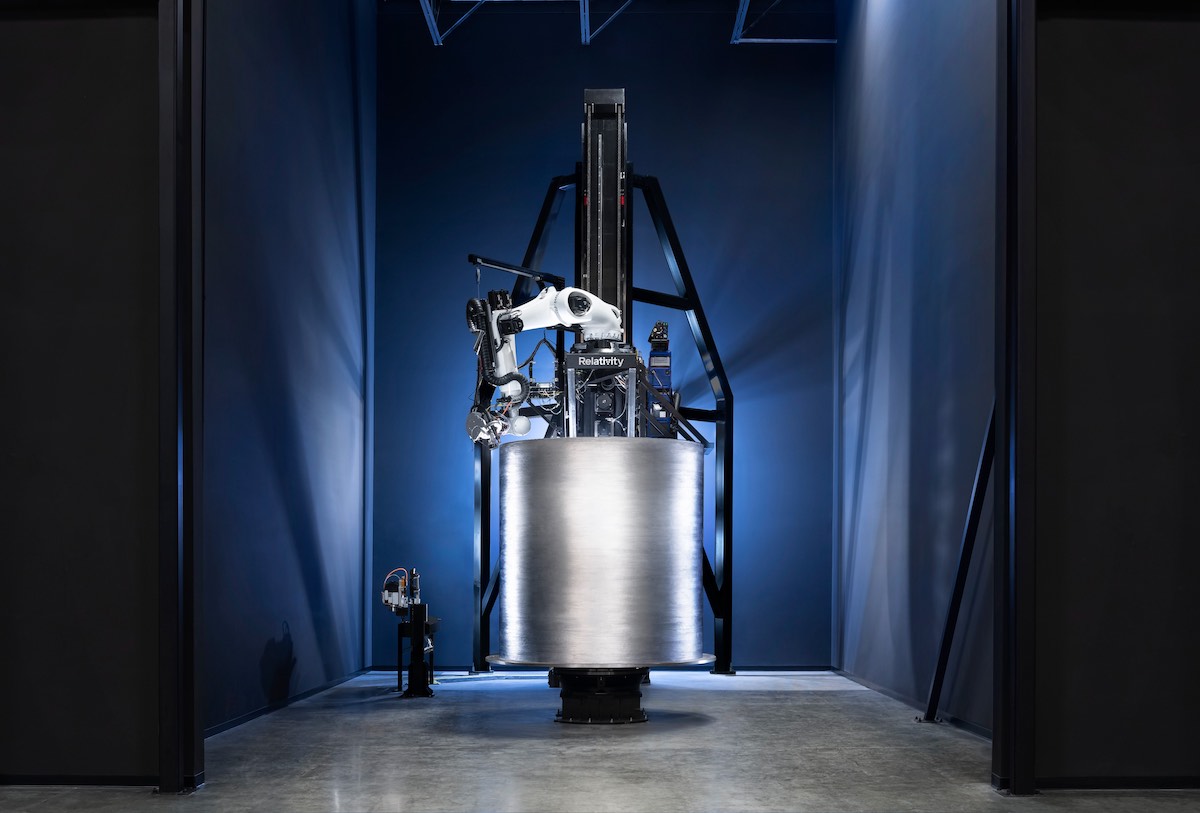 Without performing the final hold-down test-firing, Relativity says there is an increased chance of an abort on the first launch attempt. The spokesperson said the company is trying to balance the risk of wear and tear on the Terran 1 rocket from continued testing with the risk of proceeding with the test flight.
Computers check the health of all launch vehicle systems, including engines, before giving the command to release the rocket for flight. If there's a problem, the countdown will abort and the engines will shut down on the pad. If all systems are working normally, hold-down restraints will release to allow the Terran 1 to climb off the launch pad and climb into orbit.
Overall, Relativity has completed 191 Aeon 1 hotfire tests with 10,900 seconds of run time during engine qualification and acceptance testing on a firing stand at NASA's Stennis Space Center in Mississippi.
The second stage of the Terran 1 rocket, powered by a single "Aeon Vac" engine optimized for firings in space, completed a full "mission duty cycle" simulating the burn it will perform on the test flight. Relativity also completed structural loads testing on the first and second stages of the Terran 1 rocket, and functional testing on stage separation and other "flight-critical" mechanisms.
Aeon engines have been test-fired more than 2,000 times, the company said. The engines were designed and built in-house by Relativity Space, with the exception of the upper stage's nozzle extension.
The Terran 1 rocket will take off from Launch Complex 16, a long-dormant facility at Cape Canaveral once used by Titan and Pershing missile tests. Launch Complex 16 was last used for a launch in 1988, and is located on the historic "missile row" at Cape Canaveral, south of United Launch Alliance's Delta 4 launch pad and north of SpaceX's rocket landing zone.
After announcing in 2016 it received the military's approval to use Launch Complex 16, Relativity built a rocket processing hangar, erected lightning protection towers, and installed propellant holding tanks at the site.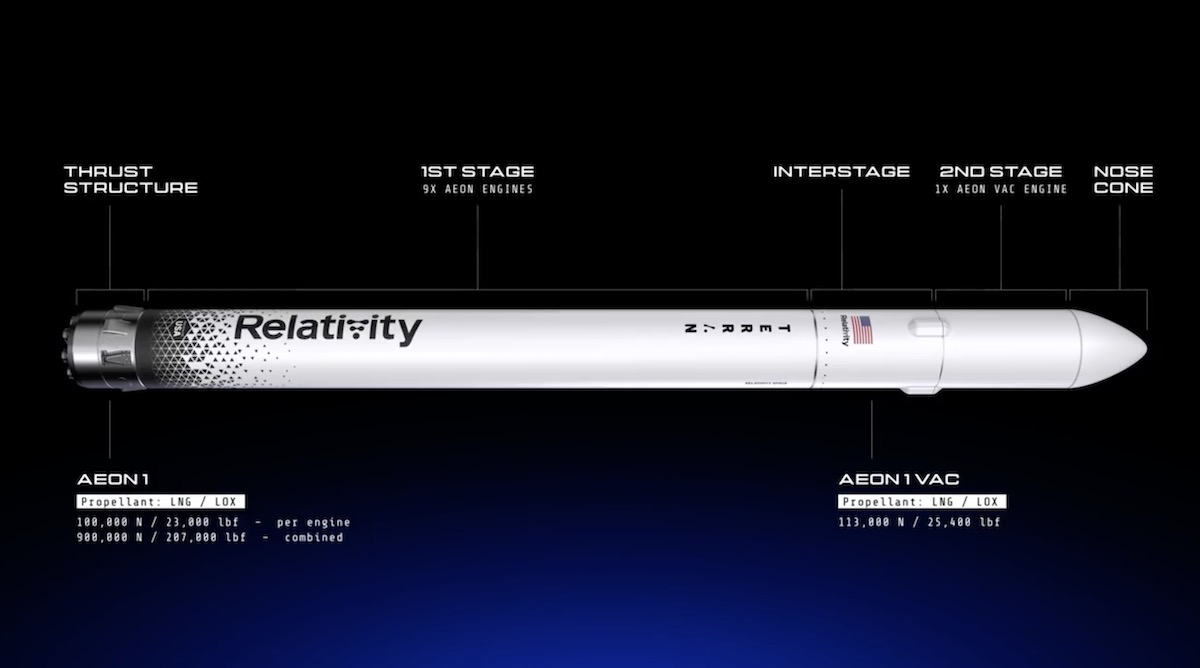 Relativity delivered the Terran 1 rocket to Cape Canaveral last June for final integration and testing.
The Terran 1 will begin steering on a path due east after a 12-second vertical climb away from Launch Complex 16. Around 42 seconds after liftoff, the rocket will be far enough downrange to ensure debris would not fall on the launch pad if the vehicle broke apart in flight.
"When the clock gets to zero, a million things can happen and only one of them is good," Brost said. "And that's because rockets are incredibly complex systems that are tightly coupled, where your avionics, your propulsion system, your structures, all these things need to work perfectly in concert to have a rocket ultimately achieve orbit.
"We're designing the rocket to have the same kind of safety factors and structural margin that you would see it in any other system," Brost said. "Over time, we have developed our own alloys to make the printed material both higher performance and more printable, which is part of our very unique tech stack that makes it possible to 3D-print the vast majority of a rocket.
The rocket will surpass the speed of sound as it accelerates through the atmosphere, a phase of flight called Max-Q where the Terran 1 will encounter the most extreme aerodynamic forces of the mission. Ground testing has shown the 3D-printed rocket can withstand the same forces as a launch vehicle built out more conventional materials, like aluminum, carbon fiber, or stainless steel.
"We feel like we've done the testing on the ground to validate that 3D-printed structures can survive the launch environment, but obviously demonstrating that in flight will be an important milestone to get through," Brost said. "And as we look at the day of flight operations, Max-Q happens partway into Stage 1 ascent. That's the point we're going to get the maximum aerodynamic forces pushing on the rocket. That really is the key validation point for us to show not just to ourselves, but to the world, a 3D-printed rocket is really up to the to the task of taking on those launch environments."
The Terran 1 rocket will push through Max-Q about 1 minute and 20 seconds after liftoff.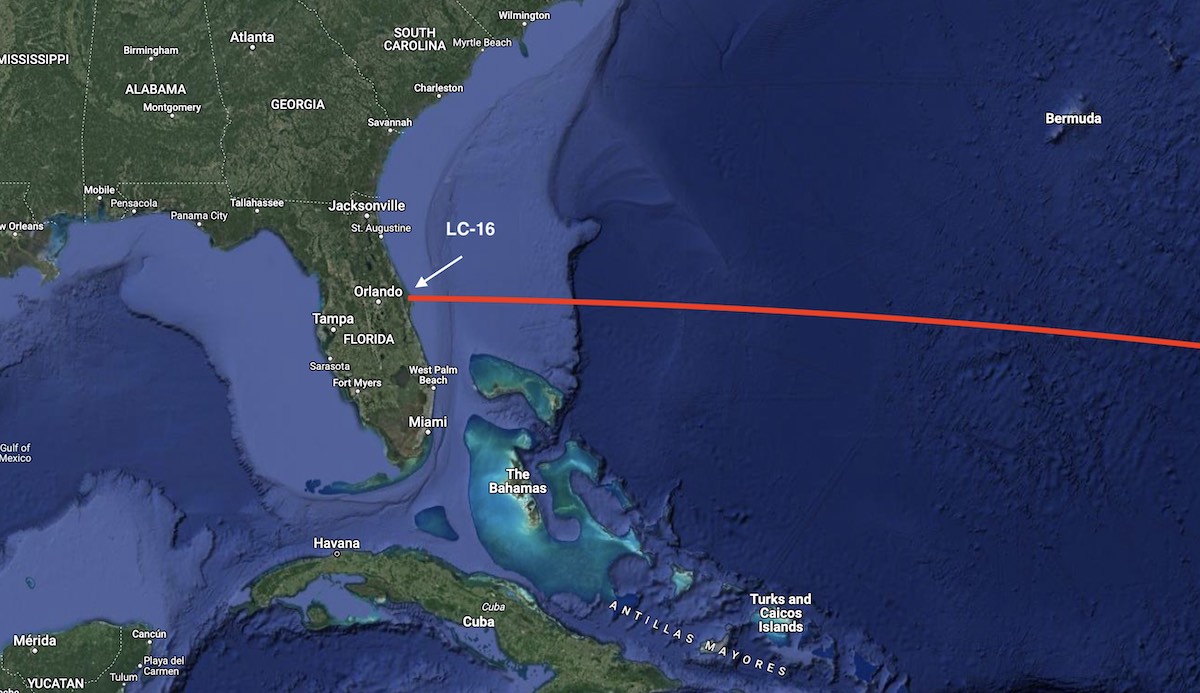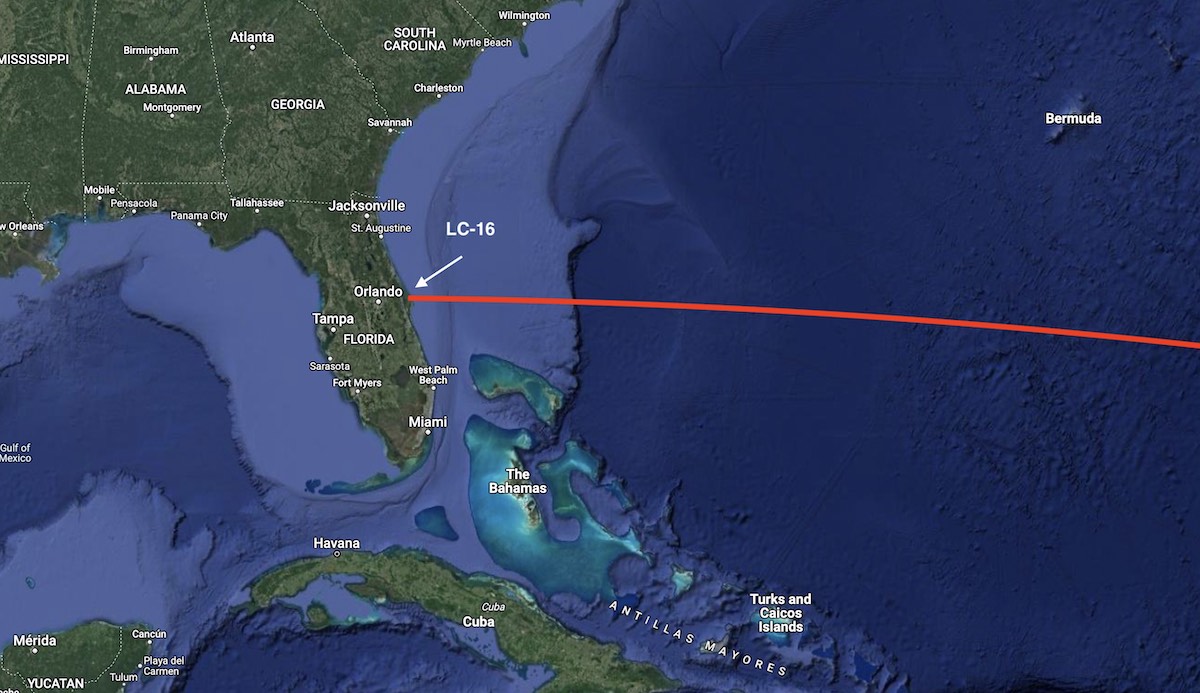 Relativity hopes to "maximize learning" on the Terran 1 test flight, Brost said.
"So it's collecting as much data as possible that we can then use to improve our analytical capabilities on the ground, and improve our testing capabilities on the ground, as we want to carry on forward to what's next," he said.
The Terran 1's first stage will fire for 2 minutes and 40 seconds, then detach from the rocket's upper stage. The booster on the Terran 1 is not reusable, and will fall into an impact zone in the Atlantic Ocean.
At T+plus 2 minutes and 51 seconds, the upper stage will light its Aeon Vac engine to accelerate the rocket to orbital velocity around 17,000 mph. If the flight goes as planned, the Aeon Vac engine will burn around five minutes before injecting the upper stage into a low-altitude orbit ranging in altitude between 124 miles and 130 miles (200-by-210 kilometers), according to Relativity.
The due east trajectory from Cape Canaveral will aim to place the rocket into an orbit inclined 28.5 degrees to the equator, the same latitude as the Florida spaceport, a company spokesperson said. The mission should be complete around eight minutes after liftoff.
One thing the Terran 1 rocket is not testing on Wednesday's mission is a payload fairing, the aeroshell that protects satellites during a rocket's initial climb through the atmosphere, then jettisons to reveal the payloads after they reach space. The Terran 1 set for launch on Relativity's first test flight has an aerodynamic nose cone, which will not separate from the rocket.
The decision to forego flying a payload fairing on the Terran 1's first test flight was simply to ensure the company kept its focus on the parts of the rocket that have to work to reach orbit.
"We wanted to make sure we were biting off the technical scope that was most important for our learnings," Brost said. "If you look at how new rockets fail, there's a number of different failure modes where systems can run into trouble. Those are really where we're focusing our efforts.
"That's putting our effort into massive amounts of propulsion testing and significant amounts of on-ground, hardware-in-the-loop avionics testing, and full end-to-end structural testing to make sure that the system has the best chance of getting all the way to orbit, and gives us the best chance to collect massive amounts of data that we can then use to improve our systems going forward."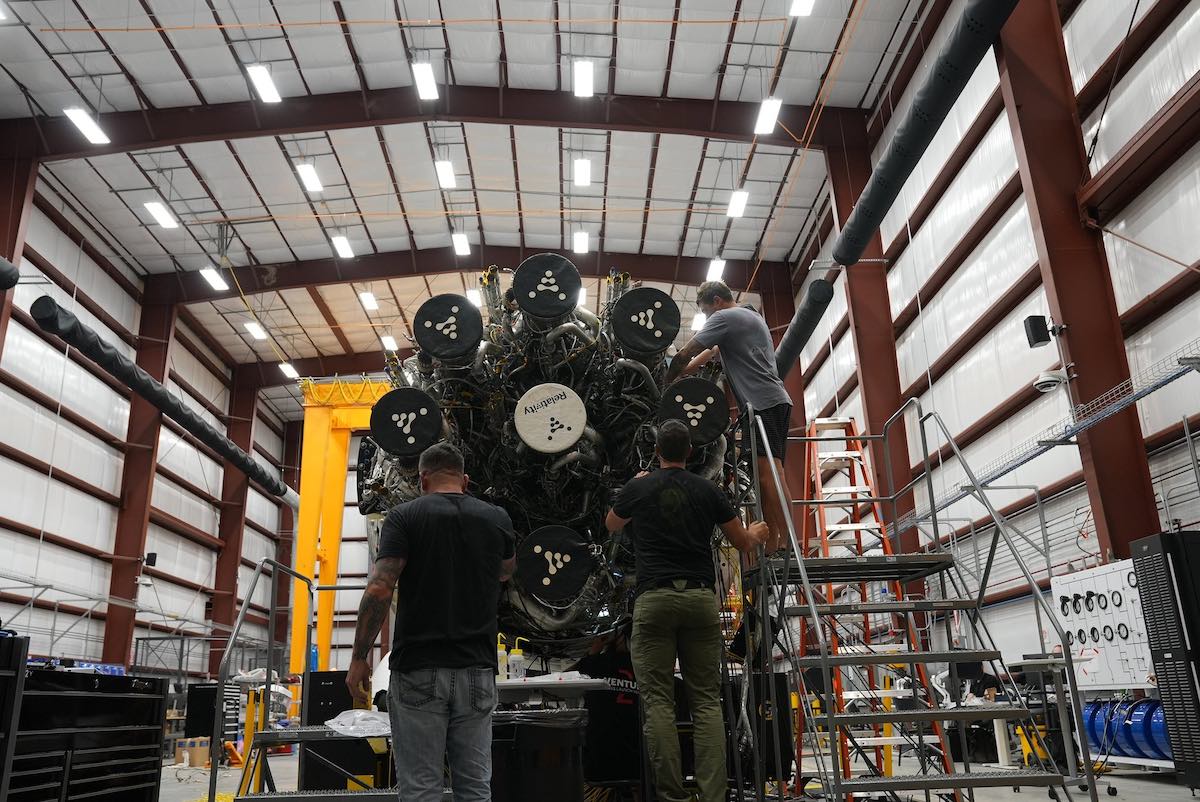 A small metal ring, one of the first test articles Relativity printed several years ago, is riding inside the Terran 1's nose cone. It will remain attached to the upper stage.
"The quality is not great, the scale isn't very large and its riding on top of a rocket that is majority 3D-printed," Brost said of the rocket's mock payload. "So it really kind of book-ends where we started, and Terran 1 shows where we are today. I think it's a great memento to honor the past and how we got to where we are today."
Relativity has a launch contract with NASA to fly a cluster of small satellites on the second Terran 1 mission from Cape Canaveral. The company also has a contract with Telesat to launch satellites for that company's planned low Earth orbit internet constellation. And Iridium has a long-term agreement to launch voice and data relay satellites on Relativity's rockets.
Last year, Iridium shifted the launch of five of its remaining six spare "Iridium Next" satellites from multiple dedicated flights on Relativity's Terran 1 rocket to a rideshare mission later this year on a single SpaceX Falcon 9 rocket. "We still have one ground spare left, which could launch in the future on the Terran 1," an Iridium spokesperson said.
But Iridium says its contract with Relativity includes provisions to use the launch company's future systems, like the Terran R. OneWeb has also signed a multi-launch agreement to fly its second-generation broadband satellites on Terran R rockets. And another startup space company, called Impulse Space, announced last year it plans to send a robotic lander to Mars with a boost from Relativity's Terran R.
Relativity says it has a contract backlog with a dozen customers worth more than $1.65 billion. The majority of the backlog is for missions to launch on the larger reusable Terran R, which Relativity says could launch for the first time by the end of 2024. Like the Terran 1, the Terran R will be constructed with 3D-printing technology, use methane fuel, and will depart for space from Launch Complex 16 at Cape Canaveral.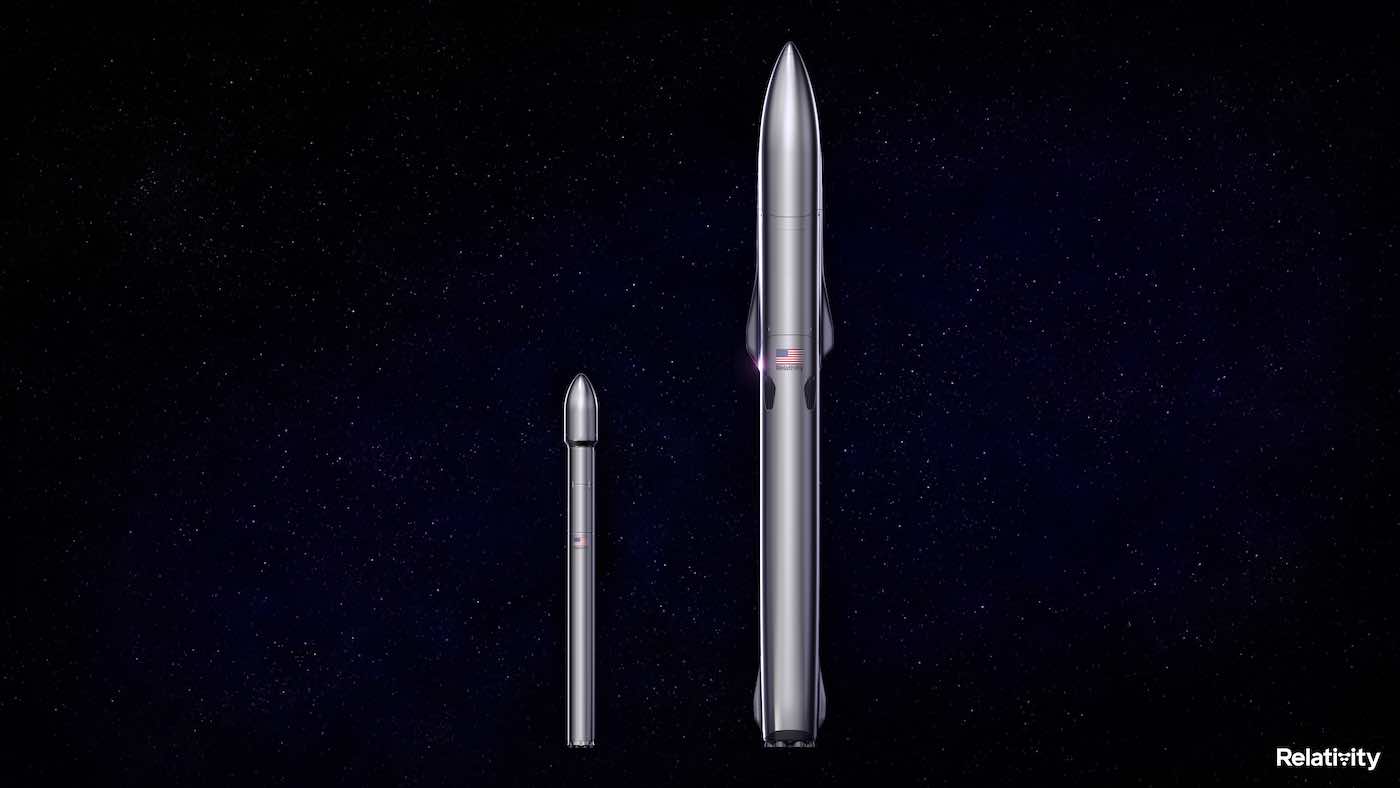 In a Twitter thread posted on the eve of the Terran 1's first launch, Ellis signaled Relativity is eager to shift its efforts to developing the Terran R.
"Medium-heavy lift is clearly where the biggest market opportunity is for the remaining decade, with a massive launch shortage in this payload class underway," Ellis said.
Resembling a smaller version of SpaceX's giant Starship rocket, the Terran R will stand 216 feet (66 meters) tall and measure 16 feet (5 meters) in diameter.
Flying in reusable mode, the Terran R rocket will be capable of delivering a payload of 20 metric tons, or 44,000 pounds, to low Earth orbit, according to Relativity. The payload capacity could increase if Relativity flew the Terran R as an expendable rocket.
The Terran R first stage will be powered by seven reusable 3D-printed Aeon R engines capable of 302,000 pounds of thrust each, combining to generate 2.1 million pounds of thrust at full throttle. The Terran R second stage will have one Aeon Vac engine.
Other new commercial launch providers that initially developed a small satellite launcher, such as Rocket Lab and Firefly Aerospace, are also pivoting to larger rockets. Rocket Lab is developing the partially reusable Neutron rocket, and Firefly is in the early stages of a partnership with Northrop Grumman to develop a medium-class launch vehicle.
Ellis tweeted that Relativity will look to its customers for guidance on whether to continue testing and flying the Terran 1, or to move on to the Terran R.
"Our customers will really be our deciding jury," Ellis said. "They may view this launch as a success once we prove the vehicle's structural integrity at Max-Q, but they may also be looking to later stages of flight, like stage separation, and then 2nd stage engine ignition."
"If on our inaugural Terran 1 launch we encounter issues that are more commonplace with rocket launches — rocket science problems and not additive-related problems — we'll ask those customers for input," Ellis said. "Do they want us to continue down the path of producing more Terran 1s to solve for those issues on this vehicle? Or would (they) like us to solve the remaining rocket science problems on the vehicle they are actually most interested in, Terran R?"
No matter the outcome of the Terran 1 test flight, Ellis said the mission will provide "useful data and insights that will make us better prepared for our next at-bat."
The Terran 1 is a "fantastic learning platform for developing developing technologies directly applicable to Terran R, giving us a lot of confidence we are ahead in the race to become the next great launch company," Ellis said.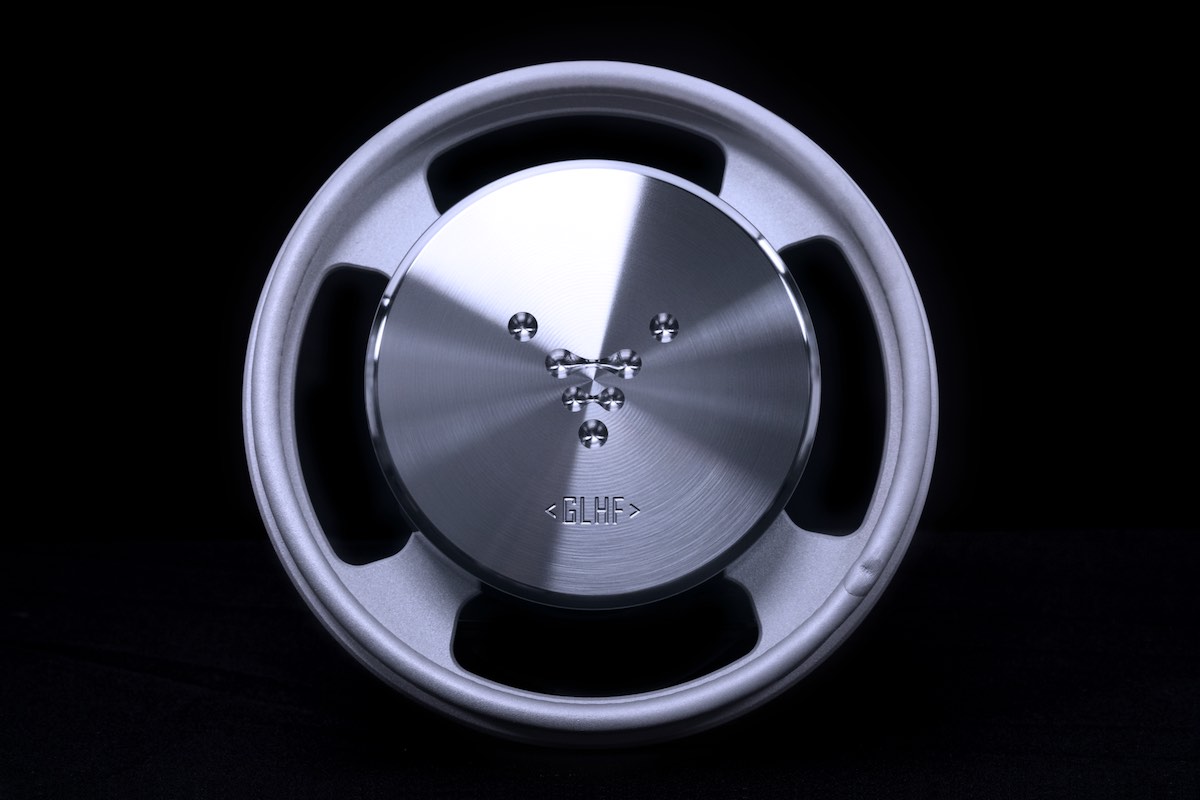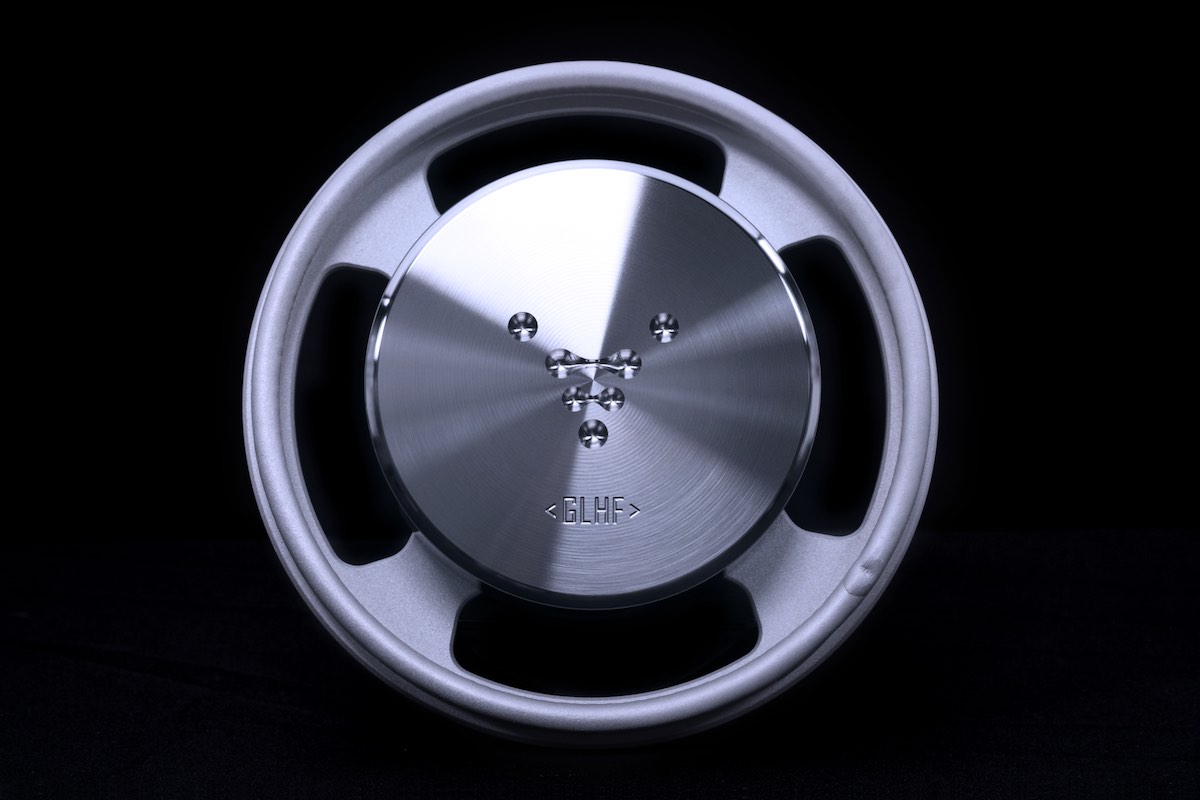 Email the author.
Follow Stephen Clark on Twitter: @StephenClark1.